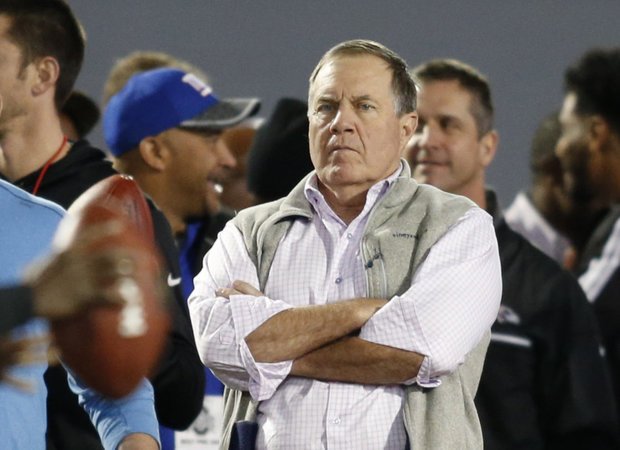 Patriots Talk: Bill Belichick Skips NFL Breakfast To Attend Florida Pro Day
What could have been… pic.twitter.com/odFzPO2WIW

— Jeff Howe (@jeffphowe) March 28, 2017
The NFL held its annual meetings from March 26-29th in Phoenix, Arizona to discuss the changes with all 32 teams for the 2017 NFL season. However, New England Patriots [Head Coach] Bill Belichick decided to skip the AFC Head Coaches meeting on Tuesday to attend the Florida Pro Day in Gainesville, Florida. Bill Belichick was spotted alongside Florida Gators [Head Coach] Jim McElwain and a photo of two was uploaded on the Gators main Twitter page.
It's an open secret that Belichick is considered an outsider to the rest of the 31 Head Coaches. (which is reinforced as he is currently the only Head Coach not part of the NFL Coaches Association) Let's be real, any person involved in the NFL knows who Belichick. But much of what makes him so known is his open disregard for sticking close to the other NFL teams.
🐐 vs. 🐐@CoachMcElwain and Coach Belichick catching up at UF's Pro Day. #GatorsProDay pic.twitter.com/5rm8CpEn6a

— Gators Football (@GatorsFB) March 28, 2017
This is nothing new for Belichick, who openly declared during the Patriots parade last month 'NO DAYS OFF!' He has been doing this for years now, and its not likely to change. Right now, its an important time to scout any potential prospects that could fall into the later rounds in the draft. However, there are also plenty of unknowns that he is searching for that nobody else is. This is important for the Patriots, as they don't have a first or second round pick in the 2017 draft.
The following players that attended the Pro Day on Tuesday included Gators [defensive tackle] Caleb Brantley, [cornerbacks] Jalen "Teez" Tabor and [inside linebacker] Jarrad Davis among many notable prospects that will be taken in this year's draft. However, Belichick is looking into players that likely weren't graded highly at the combine.  Players have bad days and always need a second look, especially for someone like Belichick who gets the most value out of his players.
In addition, Belichick was also spotted Wednesday attending the Miami Hurricanes Pro Day event in Coral Gables, Florida. Among the players for that event were [tight end] David Njoku, [quarterback] Brad Kaaya, [safeties] Rayshawn Jenkins and Jamal Carter, [defensive end] Al-Quadin Muhammad, [guard] Danny Isidora and [cornerback] Corn Elder. Belichick has been on the move to find any talent that can become diamonds in the rough, and the days till the NFL Draft are starting to whine down.