Patriots Talk: Results Of The Patriots Off Season So Far
This week will mark the end of the New England Patriots activities and the official wrap up of the third phase of the off-season program for all teams. The team won't be officially taking the field in Foxboro again till late July The next time the team officially takes the field will be at the start of training camp in late July. (between either the 21st-30th)
And with this conclusion, the Boston media and NFL analysts have seen what the Patriots are currently capable of. And we have learned who stands out, who struggles and those who are still unknown. Here is what has been seen in the Patriots' OTAs:
The Stand Outs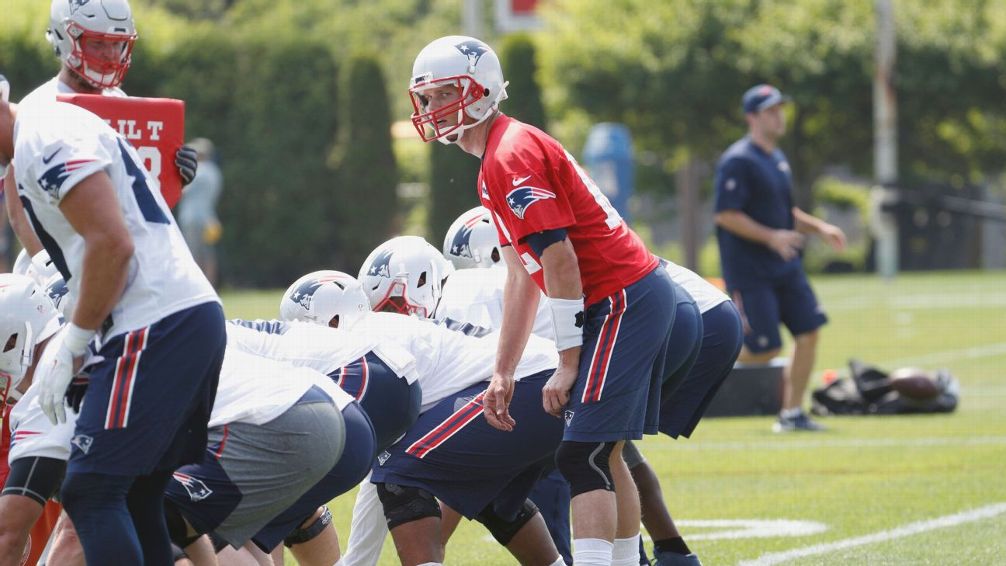 Tom Brady: Unsurprisingly, Tom Brady has shown no real decline in his game. The average onlooker wouldn't be able to tell if this Brady was any different from how he was 5 years ago or maybe even 10. His hard work ethic and overall dedication to perfecting his play is evident. Brady is reaching the age of 40 by next month, but many so far don't see how he doesn't continue to play at a high level come September. Brady's arm strength in particular is still in top form. This can likely be thanks to thanks to his quarterback coach, Tom House, former relief pitcher for the Atlanta Braves, Boston Red Sox and Seattle Mariners. House has been a long time coach within both baseball and football and has worked out with several NFL quarterbacks such as Drew Brees, Andy Dalton and Matt Ryan just to name a few. Brady's relying on his technique and footwork have been a key development over the years as he has become more focused on his longevity.
Rob Gronkowski: So far, Gronk hasn't missed any practices during the OTAs. This is a massive relief to anybody that is on the Patriots roster. Gronk being a 100 percent means he will be making a potential comeback in 2017 that we will likely not see coming if he lives up to his new contract.
Brandin Cooks: So far has been a big standout. His speed and overall route running have been a sight to see at OTAs, but the biggest worry coming into it was his connection with Tom Brady. Transitioning from a future Hall-of-Famer like Drew Brees is seemingly a pretty huge thing when ti comes to the best Quarterback of all time in Tom Brady. He has been taking on the team head on and has been the first one in front during the practice drills.  He was together with Julian Edelman and Chris Hogan the most out of any three-receiver sets.
Jonathan Jones: He is currently the most likely candidate to fill in the cornerback position as nickelback. With Stephon Gilmore and Malcolm Butler already locked in as the two top cornerbacks coming into this season, it a fight for the third spot. Jones, was brought in out of Auburn as an undrafted free agent and initially many didn't expect him to get as far as he has. His opportunity coming into 2017 season could be a huge stand out year for him.
Ones With Struggles
With how many injuries the team has taken, this could be a list in of itself. Players like Dont'a Hightower, among others, wasn't at 100 percent during OTAs. Players who didn't fully participate include: Hightower, receiver Malcolm Mitchell and safety Duron Harmon. This means that they could be possible candidates for PUP list at the start of July training camp if they don't have any updates after this.
In a addition, backup quarterback Jimmy Garoppolo suffered a leg injury during practice and will likely be put onto the PUP for awhile.  Defensive players Kony Ealy and Lawrence Guy have missed practice time, so their situations will likely be important going forward. Especially since Ealy and Guy will likely be important to the pass rush going forward as the only real factor for a pass rush was with Trey Flowers.
Cyrus Jones has been a big concern as he has continued to struggle at special teams again in OTAs. He will likely be a big concern for this as he was put out of the season when he made to two huge errors during the Patriots-Ravens game last year. At this time, it seems he will more likely be pushed to practice squad if he doesn't improve by much as he has snaps at nickelback but it seems he will likely be only a backup at best with this current time.
THE UNKNOWN
Alan Branch was the only player didn't have any attendance at OTAs this year. The team still had 100% of the team attended for mandatory minicap, there was no signs of Branch at voluntary workouts. This wasn't a shock to the team since Branch has never attended a voluntary workout over his career. Instead, Branch choose to stay in his home in Arizona for the beginning of the offseason. Whether his physical condition upon return will be enough to pass the conditioning test will be very critical as he was the main support for the Patriots run defense last season.  His time spent not with the team could be an important factor moving forward.
For the rest of the team, the interior offensive line depth is important. Right now, Ted Karras will be getting significant work this season behind starting center David Andrews as his backup. As for the overall depth, the only players not part of the starting lineup are guards Chase Farris and Jamil Douglas. Both players only made the practice squad last year, and their development is critical in the event of injury to starters Joe Thuney (who made all rookie team at his position last year) and Shaq Mason. Even though the players are well maintained, it is clear that the team is thin at their offensive line and how this could effect things moving forward with their long time QB in Tom Brady is something to be careful of.
Overall, the team has shown alot of positives but there is much that will need to be done come July. Players that stand out are going to need to be prepared for when the team has joint practices with the Houston Texans and Jacksonville Jaguars on August 15th and 16th.