Boston Bruins Have Chance To Close Out Series In Six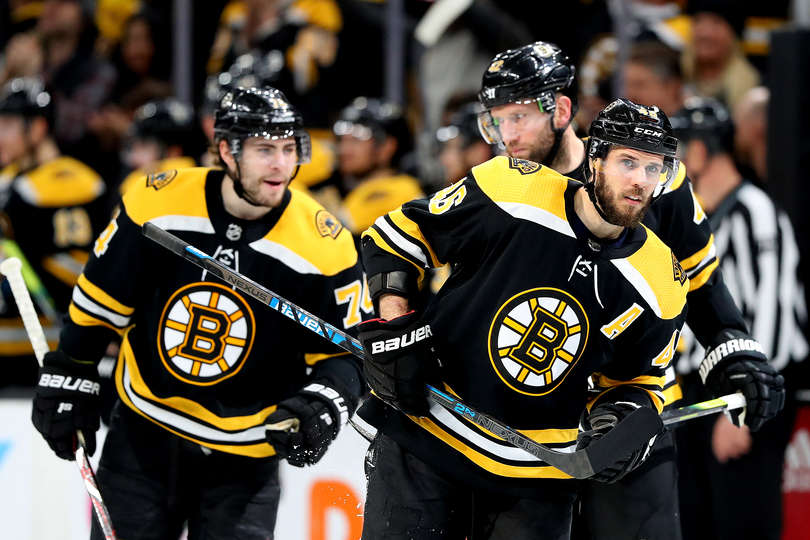 Boston has their shot to finish the Blue Jackets on the Backs of Tuukka Rask
Boston Bruins have their shot to finish off the Columbus Blue historic season in 6 games. The biggest reason the B's are in this position is their top line and Tuukka Rask. The best player all series has been Rask. On Saturday we saw a resurgence of David Pastrnak and a Bob matching play in Rask.
We are finally getting the play we deserve out if Rask. Of late he never seemed to come up with that one save he should not make. On top of being outplayed by Sergei Bobrovsky. The past two games have been different. He is the one outplaying Bob and making not just one but several unbelievable timely saves. 
Pair this with the resurgence of the B's top line and they are going to be tough to stop in game 6. Pasta seems to be finding his groove, not sure what sparked it but it could not have come at a better time. That top line finally found a way to grind down the top D-pair of the Jackets. 
At times in game 5, Seth Jones and Zach Wereski were on the ice for over a minute. This will be the same strategy in game 6 as the Black and Gold try and close the so far very close series. 
Minor Fixes For Game Six
Even with a win, there are always areas to improve and the biggest for the Bruins is clearing the zone. Countless times we have Zdeno Chara fail to clear the zone and it leads to a scoring chance or worse a goal. We saw this in game 4 and 5. There were at least 4-5 failed clearing attempts by Chara. Chara is not the only culprit. 
Brad Marchand failed to clear the puck late in game 6 and it leads to a game-ending block from Charlie McAvoy. McAvoy knows he has to give it all to get to the Cup.
"Whatever it takes, right? I think you put any person on our bench, I have complete faith that whoever it was out there is going to do that, is going to jump in the lane. That's what it takes, and Butchy has been preaching that, and we all know that. So, tonight it just happened to be me, but it's been other guys."
Another area is not letting Columbus get momentum back. Too many times the Jackets are flat and one goal seems to give them life. Now two of those goals that gave then life are controversial. 
Best way to avoid that is to not even give them the chance. Boston will look to clean these areas of their game up as they prepare for a potential series-ending game 6 win.
Boston Bruins Heading To Eastern Conference Finals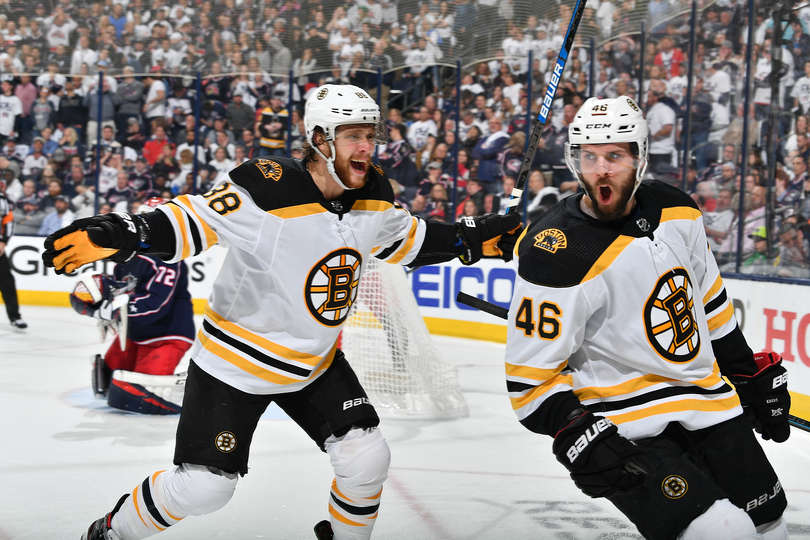 Boston Bruins Heading To Eastern Conference Finals After Shutting Out Columbus 3-0 In Game 6
On Monday the Boston Bruins defeated the Columbus Blue Jackets 3-0 in game 6 of the Eastern Conference Semi Finals. 
With the win the Black and Gold move onto the Eastern Conference Finals for the first time since 2013 against the Carolina Hurricanes. 
"I hear people say, "we gotta weather the first 10 minutes. We gotta weather the storm.","said Bruce Cassidy."We're not interested in weathering the storm, we want to create the storm."
Boston's shutout was goaltender Tuukka Rask's first shutout in the playoffs since 2014 as the net minder sacred all 39 shots he faced at Nationwide Arena on Monday night.  
"Yeah, well. It's better than sucking," said Bruins goalie Tuukka Rask on if it's important to be known as a big game goalie.
"You need your goalie to deliver," said Bruce Cassidy."He did, he was composed. He was definitely our most consistent player throughout the series."
The scoring kicked off in the second period for Boston with David Krejci scoring his fourth goal of the Stanley Cups Playoffs 12:13 into the period  assisted by Jake DeBrusk and Connor Clifton. 
"We never got discouraged even after the disallowed goal," said Zdeno Chara."We stayed patient and didn't get frustrated."
Boston scored twice in the third period to give Rask some more breathing room with Marcus Johannsson scoring his second goal of the playoffs assisted by Charlie Coyle and Danton Heinen. 
A few minutes later it was David Backes who scored his first goal of the playoffs assisted by Torey Krug and David Krejci. Backes has played in three straight games for Boston after sitting out since game 5 of the first round against Toronto. 
"I'm happy for David," said Cassidy."It's an adjustment…he was a captain in the NHL…now you've turned into a secondary player. He's been able to stick with it, work hard, accept his role and contribute to the success of the team."
The Boston Bruins will now have a few days off before taking on the Hurricanes in the Eastern Conference Finals.
Boston Bruins Eyeing A Series Win On Monday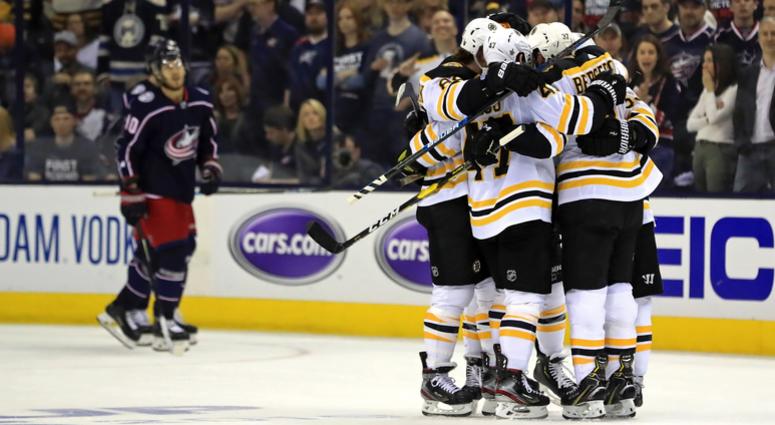 Boston Bruins Eyeing A Series Win On Monday With Columbus Blue Jackets Backed Into A Corner
The Boston Bruins have the chance to end their series with the Columbus Blue Jackets on Monday if they can come away with a victory on the road. 
Boston currently holds a 3-2 series advantage but that doesn't mean that Game 6 will be a walk in the park for the B's. 
"They are a great team,"said Charlie Coyle."They play well at home. Their crowd gets into it"
The overall goaltending in this series has been fantastic with Tuukka Rask and Sergei Bobrovsky both showcasing why they deserve to be in the conversation for being the top goaltenders in hockey. 
But for Boston they have been able to start to score on the Columbus netminder with a bit more frequency in the past two games. 
"He's a great goalie," said Coyle."He has come up huge on a number of occasions. When you get a goalie like that you want to take away his eyes." 
Boston is eyeing to win on Monday to close out the series and move on in the Stanley Cup Playoffs. It will be a rather tough task though with the expectation that Columbus will be scratching and clawing with their backs in a corner. 
"It's a great opportunity," said Coyle on potentially closing out the series."They are going to have their best game, their backs against the wall , they are playing at home. They are going to have a lot of energy and come out hard. So we have to do the same."
But for the Boston Bruins their best hockey may very well lie ahead of them. 
"I don't think we have played our best game yet," said Coyle."Still things we can work on and do better."
Boston Bruins Sign Oskar Steen To Three-Year Deal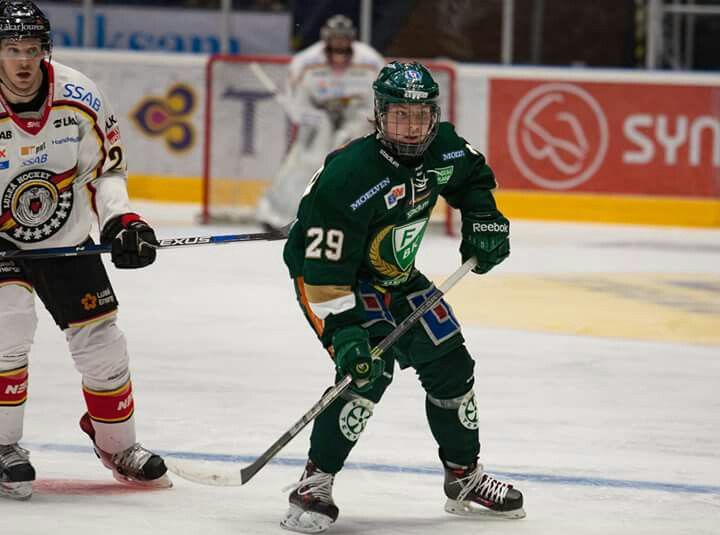 Boston Bruins Sign Forward Oskar Steen To Three-Year Deal
Despite being in the middle of the Eastern Conference Semifinals the Boston Bruins continue to look at the big picture. 
A day after extending forward Anders Bjork the team has announced the signing of Oskar Steen to a three-year entry-level contract.
Per GM Don Sweeney the 21-year-old forward's deal is through the 2021-22 season with an annual cap hit of $809,167.
Steen has spent the last two seasons with Farjestad BK of the Swedish League and scored 17 goals and recorded 20 assists for 37 points this season in 46 games with a plus-17 rating.
He was selected by Boston in the sixth round of the 2016 NHL Entry Draft.